Hair Loss Treatments
One of the methods used by men and women experiencing hair loss is to apply hair-strengthening treatments such as PRP, Hair Mesotherapy, and AGF-39. Hair loss can be caused by various factors such as hormonal disorders, blood deficiency, and iron People suffering from hair loss should first have their blood tests done and have their blood values checked for the vitamins and minerals necessary for hair strengthening and growth. Today, there are many treatment methods for chronic hair loss, rapid hair growth, and strengthening hair structure. Today, methods such as Mesotherapy, PRP, and AGF-39 are among the methods used effectively in the treatment of hair loss and hair strengthening. These treatments are among the effective methods for hair loss as well as for strengthening the hair and making it grow vividly. It is also recommended to be performed by specialists after hair transplantation.
Hair Mesotherapy Treatment
Hair Mesotherapy is a non-surgical cosmetic procedure that aims to stimulate hair growth, increase blood flow and inject the necessary nutrients for hair revitalization by injecting a mixture of vitamins, minerals, amino acids, and medicines that are beneficial for the scalp into the scalp. The potential benefits of Hair Mesotherapy can be stated as follows:
1. Stimulates hair growth:
Mesotherapy treatment promotes hair growth and helps stimulate hair follicles by injecting essential nutrients into the scalp. The injected nutrients nourish the hair follicles, allowing the hair to grow stronger and healthier.
2. Increases blood flow:
The substances injected in mesotherapy help to improve blood circulation under the skin. Increased blood flow brings more oxygen and nutrients to the hair follicles. Thus, it improves the overall health of the hair and facilitates hair growth.
3. Delivery of nutrients:
Mesotherapy ensures that a mixture of vitamins, minerals, and other nutrients is delivered directly to the hair follicles. With this method, it is guaranteed that the nutrients needed by the hair follicles are delivered to the most needed areas of the hair.
4. Providing personalized treatment:
Hair mesotherapy can be adjusted individually after hair analysis. The ingredient mix can be personalized according to your hair loss type, the health status of your scalp, and the specific needs of the patient. This personalized approach allows the treatment to be more effective and beneficial.
5. Minimal interventions:
Hair mesotherapy is a non-surgical procedure in which the scalp is treated with small injectors. Interventions are made to the extent that the patient will not be disturbed during the procedure. Compared to microsurgical hair transplantation methods, mesotherapy does not have long recovery periods or any scarring.
6. Complementary treatments:
Mesotherapy can be combined with treatments such as PRP and AGF-39 after hair transplantation. With this treatment method, a complementary treatment method can be performed by supporting hair growth after hair transplantation.
Finally, it is worth noting that the effects and results of hair mesotherapy may vary depending on your individual health status, the causes of hair loss, and the general health status of the patient. After consultation and review by experienced health professionals or dermatologists, it is recommended that you investigate whether hair mesotherapy is a suitable option for you.
PRP (Platelet Rich Plasma) treatment for hair is a non-surgical treatment method using the person's own blood to improve overall hair health and stimulate hair growth. Some advantages of PRP treatment for hair can be listed as follows:
– Natural and self-sourced treatment: PRP treatment, the person's own blood is taken and passed through a device. The part is rich in platelet substances that nourish the hair follicles and ensure their development is separated and injected into the patient's hair loss areas. Since this treatment method is natural and self-sourced, the risk of the body rejecting or reacting to the treatment is minimized. This method is especially effective in genetic hair loss.

– Promotes hair growth: PRP stimulates many growth factors that promote hair growth and hair follicles. After PRP is injected into the scalp, it helps to revitalize dormant hair follicles, prolongs the growth time of existing hair, and stimulates the production of new hair strands.

– It increases hair thickness and quality: PRP treatment can increase the quality and thickness of existing hair strands. The growth factors in PRP content nourish the hair follicles and help to create healthier, thicker, and stronger hair.

Minimal non-surgical interventions: PRP treatment is a non-surgical procedure in which a small amount of blood is taken from the patient's thigh and used on the patient's scalp. The blood taken from the patient is processed to separate concentrated platelets. It is possible to feel minimal pain after the procedure, but as with surgical procedures, there is no disruption to your daily life.
– Fast and convenient: PRP treatment sessions can be done very quickly. Standard session times are 30-60 minutes depending on the size of the area to be treated. There is no recovery process after the procedure and no waiting time in the hospital. The patient can return to his daily life in a short time after the injection procedure.

Complementary treatment method: PRP can be used as a complementary treatment method to strengthen the hair follicles and ensure rapid growth after hair transplantation. With this treatment method, the success rate of hair transplantation increases and it has a complementary effect by increasing the effect of hair transplantation results.

Minimal side effects: Possible side effects in PRP treatment are temporary and mild side effects such as swelling and slight redness in the injection area. These side effects usually resolve within a few days to a few hours.
It should be noted that PRP treatment for hair varies according to the general health status of the person and the underlying factors of hair loss. After consultation with experienced health professionals or dermatologists, deciding whether PRP treatment is the most appropriate for your condition is an important factor in achieving successful results.
AGF-39 hair treatment is a treatment method developed to strengthen the structure of the hair, make the hair stronger and more vibrant, and prevent hair loss. AGD-30 contains nutrients necessary for strengthening the hair. The substances consisting of special cures in the tubes are dripped into the scalp with the help of needles. Then, with the help of a dermo roller, the dripped substances are absorbed into the hair. AGF solutions used in hair treatment start to show their effects after 6-10 sessions. The benefits of AGF-39 treatment can be summarised as follows: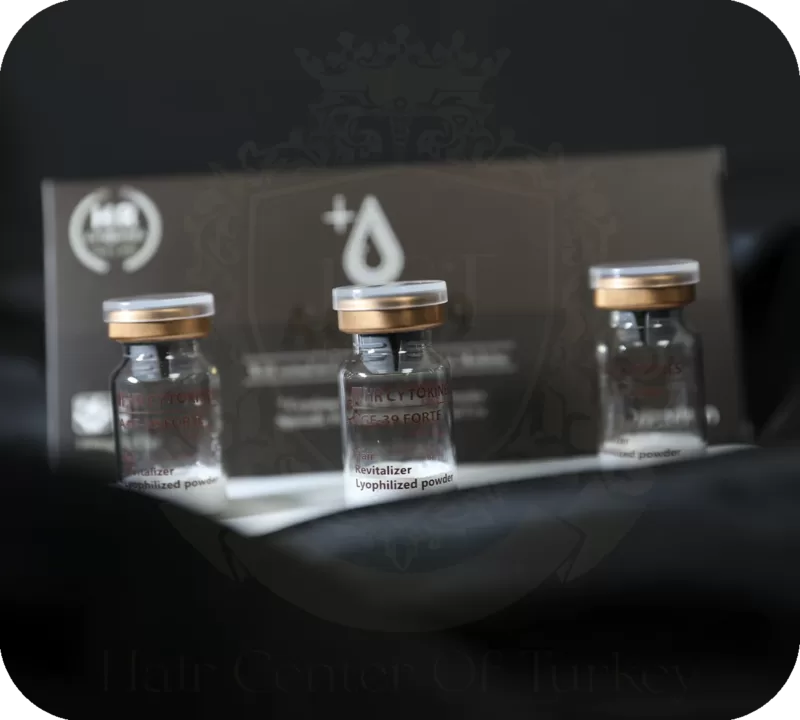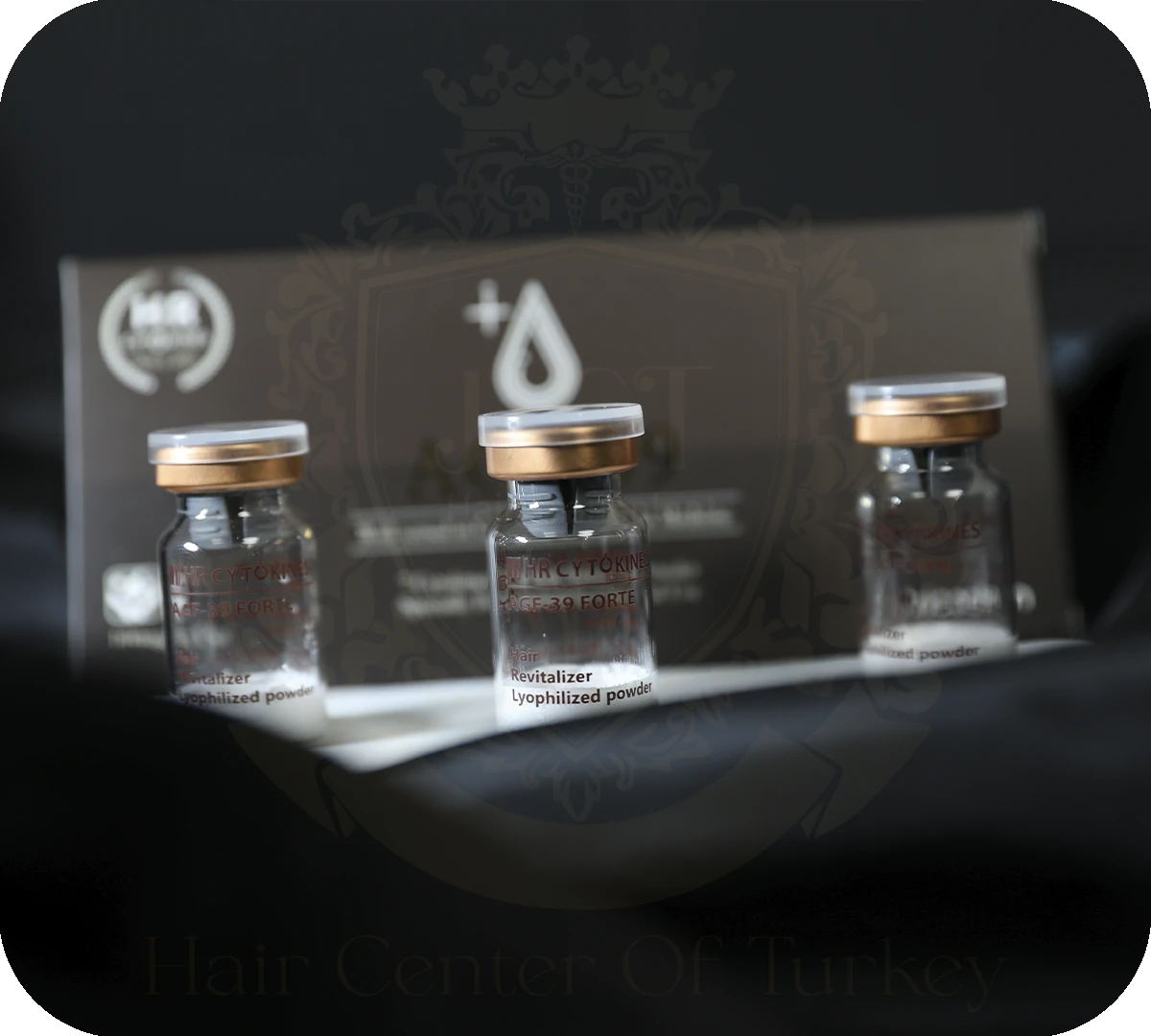 SOD, which protects hair follicles from oxidative stress, contributes to hair regrowth and development,

It contains nutrients such as minerals, vitamins, coenzyme-A, and amino acids, which are essential for protein production and energy metabolism,

AGF-39 is contained in tubes, a small amount is taken from the syringe and distilled into the scalp. Afterward, it can be easily distributed on the scalp with a dermo roller,

AGF-39 can be applied by healthcare professionals in the clinic, as well as our patients can easily use it at home.
You can benefit from effective hair treatment methods such as PRP, Mesotherapy, and Agf-39 to prevent hair loss and get thicker and healthier hair.
The World's Leading Clinic,
Hair Center Of Turkey – Hair Transplant Center!
Professional staff, VIP service, 100% success, endless service…
From the four continents of the world to the center of Istanbul,
We guarantee the success we promise with our name.
We offer you a new one with personalized methods and technical combinations!
It is in your hands to get the look you want with an innovative perspective and the latest technology!
Contact us for Online Consultation, Free Consultation, and detailed information!