Hair Transplant After Chemotherapy
We wrote this article to inform our dear friends who have experienced hair loss due to chemotherapy. On behalf of Hair Center of Turkey, we wish them all a speedy recovery.
What is Chemotherapy?
Chemotherapy is the whole of the drugs taken as a result of cancer disease. These drugs have some side effects. Chemotherapy is usually injected intravenously. Depending on the type of cancer, it can also be administered into the pleura, abdominal cavity or bladder. Otherwise, how it is administered depends on the type of cancer. Chemotherapy has some unavoidable side effects. These are mostly;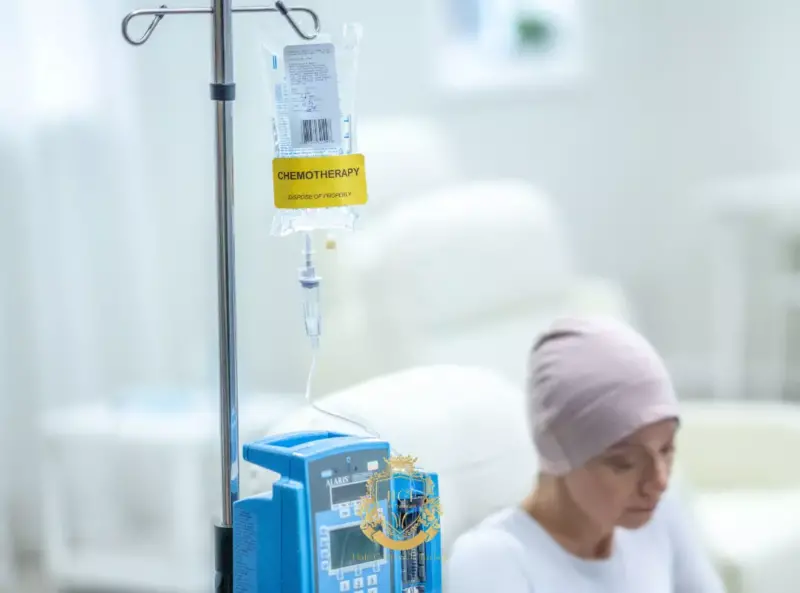 Hair, eyebrow, moustache and beard loss
Bruising on the body and red spots on the skin
Weight loss
Nausea
Loss of appetite
Fire.
Sexual dysfunction
Sores in the mouth and dry mouth
Constipation and diarrhoea
Abnormal vaginal bleeding.
Why do I receive chemotherapy?
To keep cancer cells under control
Destroying cancer cells
Eliminating the symptoms of cancer
Prevent the spread of cancer cells to other parts of the body
Reducing the pain of cancer
Hair Loss After Chemotherapy
The most common side effect after chemotherapy is hair loss. One of the common misconceptions is that cancer itself causes hair loss. It is not the cancer disease that causes hair loss; it is caused by the side effects of the drugs used in this process. While receiving chemotherapy, hair loss occurs not only in the hair but also in many parts of the body that contain hair follicles, including eyebrows, mustache, and beard targeted by drugs. This situation varies from person to person. Depending on the intensity of chemotherapy and the type of cancer, hair loss is very intense in some patients, while in others it is milder. Hair loss after chemotherapy starts within 15-20 days after the chemotherapy starts, and approximately 3 months after the chemotherapy ends, the hair loss starts to grow again in a healthy way. This process is both physically and psychologically exhausting for patients. Hair loss can make you feel physically bad. People's looks may disturb you. These can cause loss of self-confidence. However, you can be motivated by thinking that you will regain your hair in its healthiest and strongest form at the end of the treatment.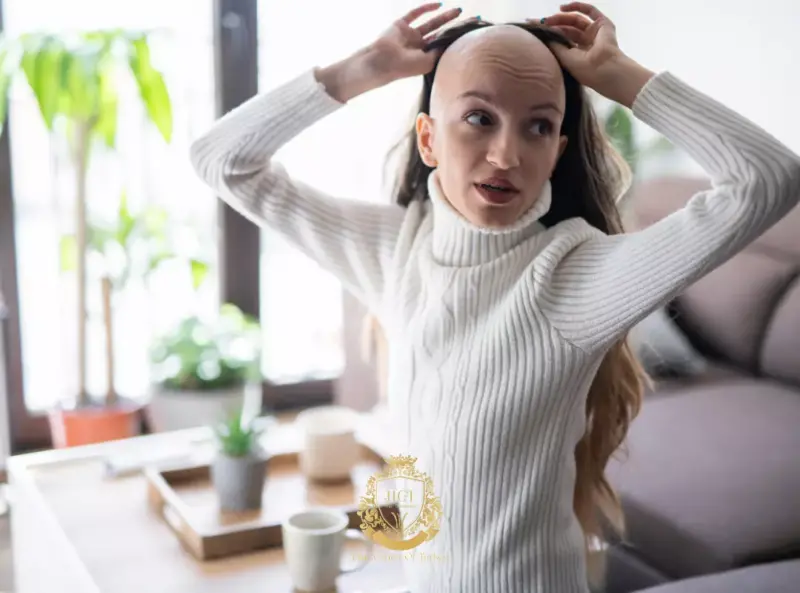 What to do with hair loss after chemotherapy?
Everyone has their own coping methods for hair loss after chemotherapy. Managing the process will help minimize physical and psychological damage. For this Getting help from online support groups and talking to people who have been through this process before can make you feel comfortable. Talking to children with cancer about the fact that their hair will fall out and that this is a temporary process makes it easier for them to cope with this situation. Even in routine life, short hair makes the hair look fuller. By cutting your hair short during this period, you can make it look fuller and improve the appearance of the hair that will grow later. Many people prefer to shave their hair at the very beginning of chemotherapy and use a bandana or wig. You should choose cotton and soft fabric for the bandage to be used. You should not use products containing high heat such as blow dryers, straighteners, or tongs that will weaken the hair. Paint, spray, etc. You should not use products. You should care for hair that does not fall out with gentle and sensitive chemical free shampoos. As chemotherapy treatment progresses, the scalp becomes sensitive. Sometimes itching and shedding are seen. Therefore, you should protect your scalp from very cold or hot weather conditions. For this, you can choose bandanas or cotton hats.
Can Hair Transplant Be Done After Chemotherapy?
After chemotherapy, the lost hair grows again in a period of 3-4 months. However, sometimes open areas may remain locally. Although some experts say that this is not chemotherapy but alopecia, there is no common opinion. Hair transplant can be performed after chemotherapy. As long as certain procedures are met, there is no harm in hair transplant after chemotherapy. For this, the chemotherapy process must be completely over, the patient must have completely stopped using medication and have sufficient donor area. Since the patient's newly growing hair will be used as the donor area, a period of time must pass after the treatment. In addition, patients with chemotherapy-induced hair loss should prefer professional institutions for hair transplant. The tests and applications included in the hair transplant procedures should be performed by specialist doctors and hair transplant specialists. As Hair Center of Turkey, we have successfully completed the hair transplant operations of more than 8 thousand patients for 9 years in our Istanbul hair transplant clinic built under hospital conditions. We still continue to serve our valued patients with our specialist anaesthesia doctor, dermatologist and hair transplant specialists. If you want to get more information on the subject, you can contact our Hair Center of Turkey team.
Hair Loss After Chemotherapy: 10 things to know:
1) What is the most common cause of hair loss during cancer treatment?
The most well-known and common cause of hair loss during cancer treatment is chemotherapy. The drugs used in chemotherapy treatment target and damage all hair follicles (hair, beard, mustache, eyebrows) in our body. As a result, hair loss occurs. The extent and cause of this depends on the amount of chemotherapy drug used and the type of cancer.
2) How long will it take for my hair to grow back?
At the end of the chemotherapy treatment, the hair that has fallen out will grow back in about 3-4 months.
3) Will my hair grow in a different color and texture?
It is rare for hair to grow in a different texture or color after chemotherapy. Everyone's body chemistry and chemotherapy process works differently.
4) What can I do to grow my hair faster during chemotherapy?
Taking supplements while chemotherapy is actively going on can interact with the drugs used in chemotherapy. This may result in negative consequences. For this reason, taking supplements during chemotherapy is not a useful method.
5) Is there any way to stop hair loss during cancer treatment?
No, there is no specific way to prevent chemotherapy-induced hair loss. Some patients try some methods to stop the blood flow to the scalp. But this again does not stop hair loss.
6) Can I grow my hair with natural methods?
Since the scalp is sensitive and irritable in this process, it may be inconvenient to use natural methods for hair growth. You can avoid using chemical-containing products and choose products suitable for sensitive skin. Baby shampoos and care products are ideal in this sense.
7) Does everyone who receives chemotherapy lose hair?
Yes. However, the rate of hair loss may vary from person to person. Depending on the type of cancer and the level of chemotherapy, some patients may have intense hair loss all over the body, while others may have slight thinning.
8) At which stage of chemotherapy does hair start to fall out?
Hair starts to fall out within 3-4 weeks after starting chemotherapy.
9) Will wearing a wig damage my scalp?
There is no clear harm in wearing a wig during chemotherapy. But it can be overwhelming, especially in summer. Instead, bandana, scarf-style products can be preferred for comfort and practicality.
10) Does stress cause cancer?
Although there are some opinions that stress triggers cancer, there is no scientific evidence for this.
Eren Demir was born in Izmir in 1989. In 2014, he graduated from Celal Bayar University Faculty of Medicine. He completed his doctorate and medical speciality training in the field of Anaesthesiology and Reanimation at Health Sciences University Haseki Training and Research Hospital. During the autumn and spring semesters of 2020-2021, he gave trainings on Basic Anaesthesia and Clinical Anaesthesia to many students as an academician at Gedik University. Specialist Doctor Eren Demir has many articles published in international refereed journals in his field. He is a member of the Turkish Society of Anaesthesiology and Reanimation. Eren Demir, who worked as a specialist doctor in various hospitals, worked as the responsible physician of Anaesthesiology and Reanimation Clinic in Avcılar Murat Kölük State Hospital affiliated to the Ministry of Health for many years. Eren Demir, who has been working in the fields of hair transplantation and aesthetics for many years, continues his valuable work as a Specialist Doctor at Hair Center of Turkey Hair Transplant Clinic.