Hair Transplantation in Famous People
Hair transplant has become very popular in recent years. Men and women who complain of hair loss and baldness on the scalp apply for hair transplant operations. So which celebrities have hair transplants? Are there women among the celebrities who have hair transplants? Which local and foreign celebrities have hair transplants? Let's take a look together.
If you are suffering from hair loss, sparse and bald scalp, you can apply to our Hair Center of Turkey hair transplant clinic. You can ask questions about the hair transplantation process from our expert consultants.
British Youtuber Kristen Hanby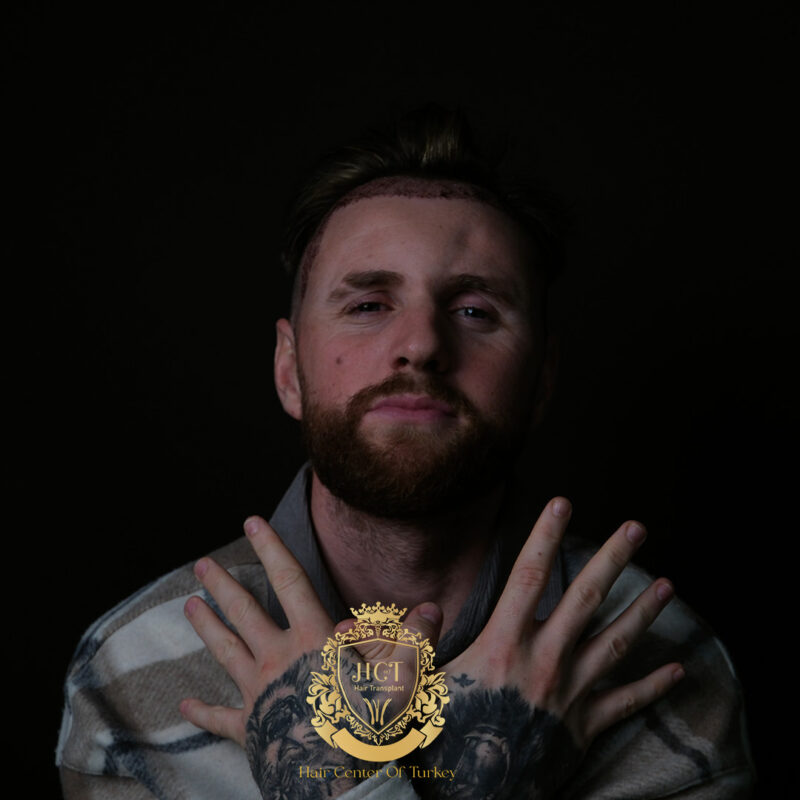 British Youtuber Kristen Hanby, known for her entertainment videos with her family, is one of the celebrities who had a hair transplant. Hanby, who chose our hair transplant clinic Hair Center of Turkey in Istanbul, came to Turkey in recent months. After the procedure, it is seen that Hanby's front lines with openness are closed and she has the hair she wishes.
Business Person Elon Musk
Elon Musk, one of the founders of companies such as the electric automotive company Tesla and Space X, is among the celebrities who have hair transplants. It is seen that the front part of Elon Musk's hair was empty and sparse in his youth. After having a hair transplant, it is obvious that he has healthy and lush hair.
Actor Jude Law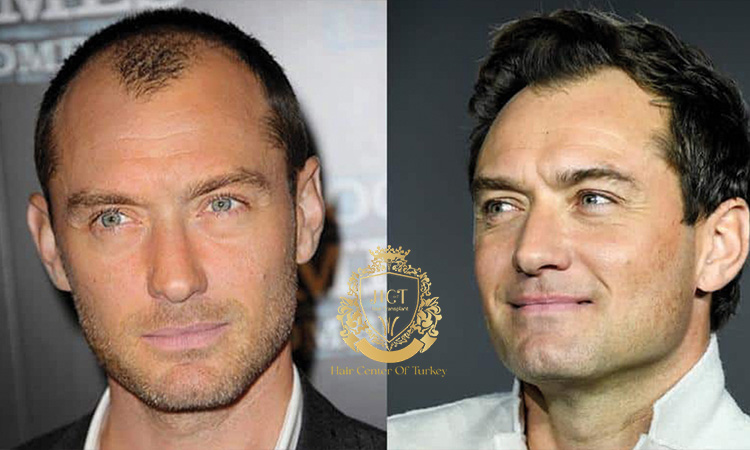 It is known that Jude Law, one of the favorite actors of the Hollywood world, also had a hair transplant. In the old photographs of the actor, who is known for his handsomeness and charisma, it is observed that the front hair opening has taken the M shape. It is known that the 50-year-old artist had a hair transplant in 2013.
Wayne Rooney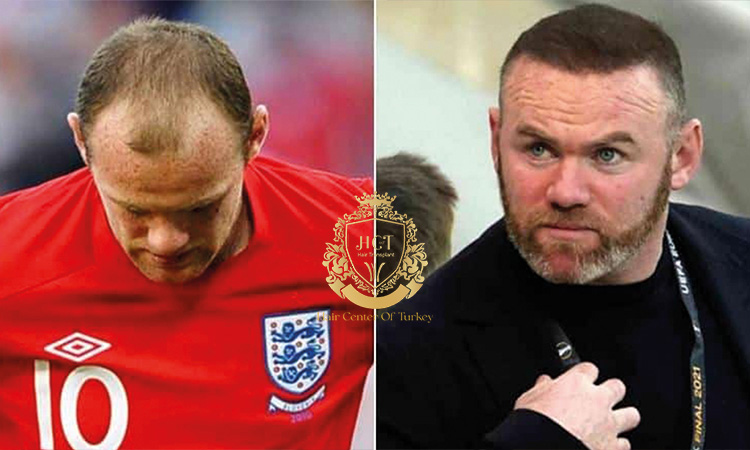 Wayne Rooney, one of the strikers of Manchester United and England National Team, is one of the names who had a hair transplant in 2011. Rooney started losing his hair when he was 25 years old. Rooney, who announced his hair restoration to his fans on his social media account, expresses that he is satisfied with the result of hair transplant.
Elton John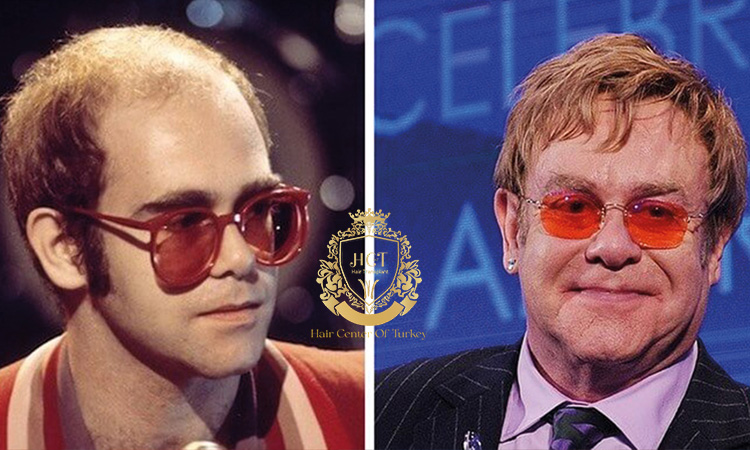 British pop/rock singer, songwriter and pianist Elton John is known to spend a huge budget on his hair. John, who tried to strengthen his hair with artificial methods in the past, has now discovered follicular unit transplant (FUE) hair transplant method. Comparing the 75-year-old singer's appearance in 1975 with his current appearance, the benefits of hair restoration are clearly seen.
Tom Hanks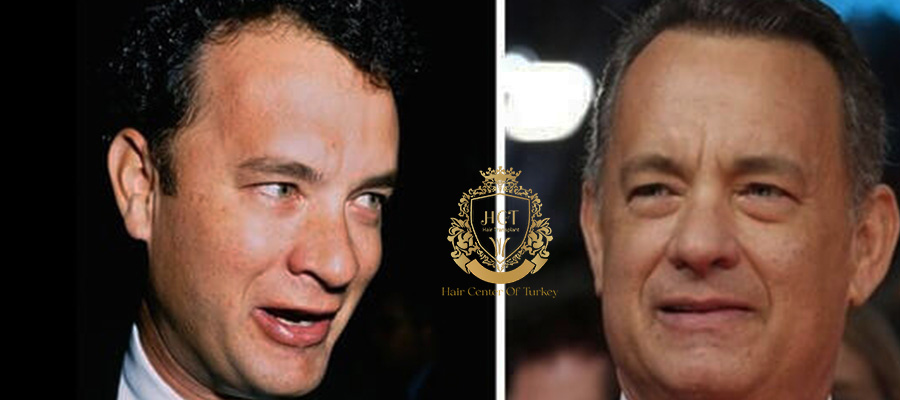 Famous actor Tom Hanks, the leading actor of films such as Cast Away, Green Road and Forrest Gump, has also joined the list of celebrities who have hair transplants. Tom Hanks was known as an actor with a wide forehead. It is thought that a slight hair transplant procedure was performed on Tom Hank's front hairline and the opening in the front was eliminated. Although there is no definitive statement made by Tom Hanks himself, the old-new photo comparison reveals the truth.
Bradley Cooper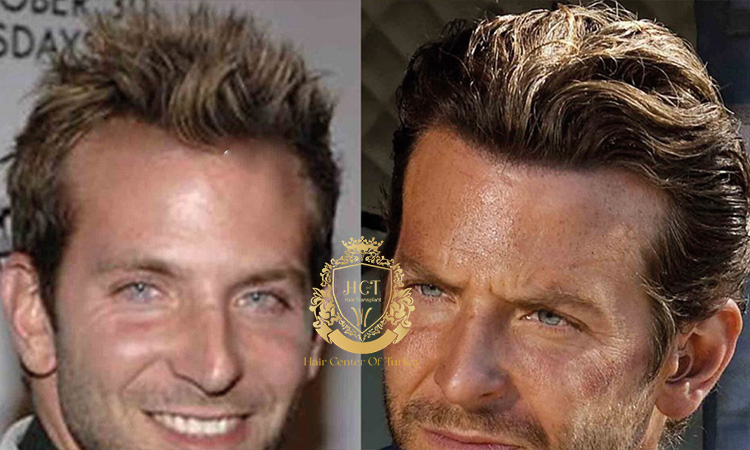 Famous actor Bradley Cooper, who played in movies such as The Hangover and A Star is Born, is among the celebrities who had a hair transplant. In Cooper's old photos, it is seen that his front hairline is clearly shaped like the letter M. It is obvious that Cooper's new hairline was pulled forward after hair transplant, as his sides started to open up more and more.
Robie Williams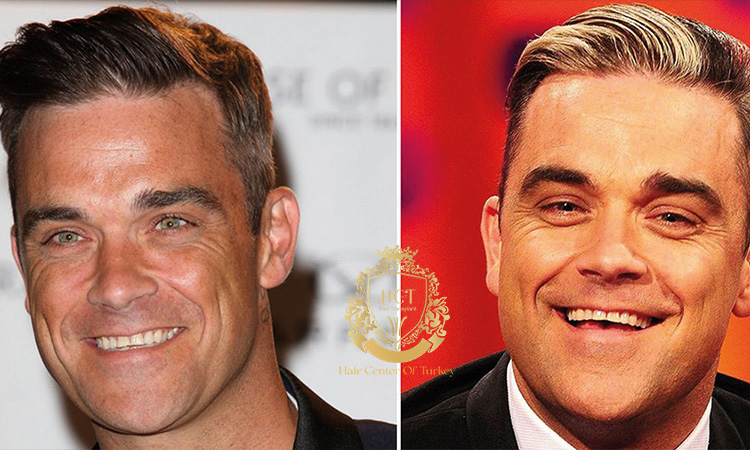 British singer and songwriter Robie Williams is among the celebrities who joined the hair transplant train. In 2013, Robie Williams, who had a hair transplant, complained of losing her hair and balding of her scalp. Although the famous pop singer wanted to have a hair transplant again after 7 years, doctors said that Williams' hair follicles were very weakened and stated that this was not possible. The 49-year-old artist, who attaches great importance to his hair, tried different methods to regrow his hair, but he was not successful. This situation shows how important early treatment is in hair transplantation. As the strong hair follicles in the donor area weaken at an advanced age, hair transplant becomes impossible. Even if different treatments are applied, hair growth may not be achieved. It is best to intervene early before your hair loss progresses.
Singer Akon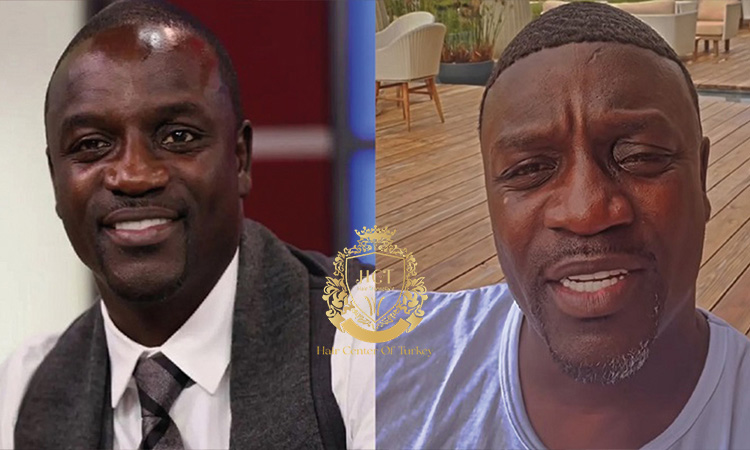 Grammy award-winning American singer Akon is among the celebrities who had a hair transplant. Moreover, Akon had his hair transplant in Turkey. Stating that he completely lost his front hair, Akon does not hold back from praising Turkey for hair transplantation. In his statements, Akon states that Turks are very good at 2 things: hair transplantation and dental treatment. Akon also adds that the hair transplant process is not painful. We wish Akon happiness with his new hair.
Stephanie Davis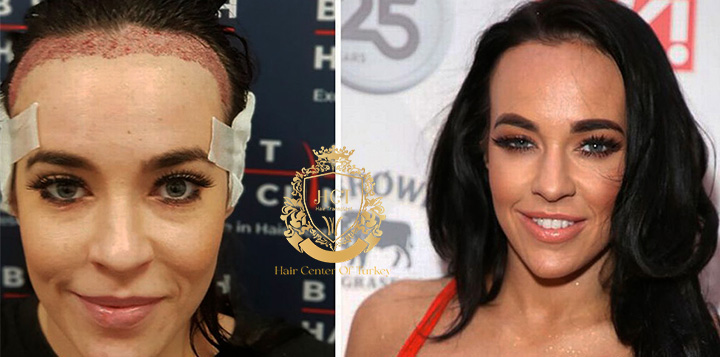 British actress Stephanie Davis is among the female celebrities who have hair transplants. She seems to be the only woman on this list who has a hair transplant. But don't worry, model and actress Naomi Campbell, TV series and movie star Jennifer Aniston, television host Oprah Winfrey are also among the famous names who have hair transplants. We will talk about female celebrities who have hair transplants in detail in another article.
Chris Brown

Chris Brown is an American  singer, songwriter, dancer and rapper. His 2005 self-titled debut studio album reached three million sales worldwide, making him the first artist to have a top single since 1997. In addition to his music career, he stepped into his acting career by starring in the youth series The O.C. Afterwards, he starred in productions such as The Christmas (2007), Takers (2010), Thin Like a Man (2012), and Battle of the Year (2013).
Hair loss caused by genetic and environmental factors, which are common in the world, affects everyone, men and women, not only in terms of health but also self-confidence. Especially if you are in the public eye. One of those names is Chris Brown. The famous singer was first seen leaving his home in 2013 with a product to nourish dry and brittle hair. It is thought that Chris Brown's hair problem, who cut his hair short and preferred to wear a fedora hat, started in those years. In the following years, Chris Brown applied for hair transplant and got his current wonderful hair. Chris Brown is thought to prefer FUE, the most popular method for hair transplant. One of the most important elements that complement the aesthetic appearance is undoubtedly our healthy and natural hair. The role of patients with hair loss in the profession and society is an important factor. Artists and actors appeal to people not only with their voices and talents but also with their appearance. We hope that Chris Brown's change will encourage you too.
Matt Damon
Matt Damon is an American actor and screenwriter born in 1970. He was born in Cambridge Massachusetts. Damon studied literature at Harvard University and made his acting debut at the age of 18 with a short role in Mystic Pizza. Some other productions he took part in are: Can Dostum (1997), Saving Private Ryan (1998), The Talented Mr Ripley (1999), The Mole (2006), Kings of Asphalt (2019). He received the Golden Globe Award for Best Actor for his role in the film The Martian.
Matt Damon attracted everyone's attention with his long hair at the Bourne meeting held in China in 2016. Everyone wanted to know the secret of this. But in the following years, like 90% of men in the world, Matt Damon also had androgenetic alopecia, ie male pattern baldness. Male pattern baldness is seen as the regression of the front hairline and the opening starting on the sides. As a result of their analyses, hair experts say that Matt Damon, like many men, resorted to hair transplantation to feel physically good. You can be inspired by the wonderful change and transformation in Damon and take the first step on this path at our Istanbul hair transplant clinic Hair Center of Turkey.
Rafael Nadal
Rafael Nadal, born in 1986, is the first tennis player in tennis history to win the Grand Slam 22 times. It was first noticed in 2016 that Rafael Nadal, who gained fame at the very beginning of his career, was experiencing hair loss. According to the news in the press at that time, it was said that the famous tennis player had 4500 hair grafts transplanted with the FUE method in a clinic in Madrid. With his natural, messy and dark curls, Rafael, who is one of the celebrities whose hair style is admired not only for his career and personality, was often seen wearing a headband by the press between 2017-2018.
When we came to 2018, it was seen that Rafael had hair loss again when he took off his hair band at the Wimbledon tournament and threw it to his fans.
And it was rumoured that Rafael would start the second session for hair transplantation again. In the following years, Rafael's change strengthened the claims that he had a hair transplant. In the FUE hair transplant method preferred by Rafael Nadal, hair follicles are taken from the donor area with a special medical pen and transplanted to the balding area. It is applied under local anaesthesia. It is a painless and painless operation. Rafael Nadal is just one of the millions of men with male pattern hair loss. The before and after photos reflected in the press confirm that Rafael had a hair transplant. Rafael Nadal now looks younger and fresher with his new and natural hair.
Salman Khan
Salman Khan is an Indian actor, presenter and director born in 1965. He is also called God of Bollywood. Salman Khan is the first and only actor to earn over INR100 crore in successive films Dabang, Dabang 2, Bodyguard, Ek Tha Tiger, Jai Ho, Prem Ratan Dhan and Sultan. In 2007, he was voted the most handsome man in Asia by People magazine. In Bollywood, as in the whole world, famous people are expected to pay more attention to their appearance. Salman Khan is one of the celebrities in Bollywood who cares about this expectation. We understand this from the fact that he was the first person to start bodybuilding in Bollywood.
Our hair is one of the most complementary elements of physical appearance. And Salman Khan was affected by genetic hair loss with his advancing age and took measures for this. Salman Khan had his first hair transplant in 2003 in a clinic in India. But this operation ended in failure. Afterwards, he performed his second hair transplant operation in Dubai in 2007. It is said that he preferred the FUE method in this operation. Since FUE is a hair transplant technique that does not contain scars and stitches, the healing process takes a short time. Khan obtained very natural results from this operation, so it is said that he has not had any procedure for 10 years. Salman Khan had his last hair transplant operation in 2016. This process is said to be done by Dubai hair transplant specialists at his farmhouse in India. Currently, the famous actor is enjoying his permanent and natural hair.
Hair, beard and eyebrow transplant is performed under the supervision of experienced specialist doctors at Hair Center of Turkey hair transplant clinic. If you are experiencing hair loss, complaining of sparse or bald scalp, you can apply to our hair transplant clinic. You can ask all your questions about hair, eyebrow and beard transplant by calling our consultants at Hair Center of Turkey hair transplant clinic.